The first few years of the career are spent in figuring out how to get paid reasonably enough to be able to get on. This is infact an extended lesson and at times we spend a bit longer learning how to crack the code.
Higher Level Needs
Once we gather the requisite experience and confidence that we can easily support ourselves, save a major economic downturn or a calamity of a personal nature, we move our attention to our higher level needs. With the realization that we are employable, our outlook towards a job undergoes a sea change, we become more aware, and look for more than just a paycheck from the job. Because you deserve more from a job as you are worth it. You no longer need to view it just as a means of taking care of your bills.
Grab it Right There
The right job can enrich and enhance your working life in more ways than one. For one you will come across great people with whom you would be collaborating, meaty and substantially significant problems to work during your employment period. During the recruitment drive whenever such a vacancy arises be prepared to grab it right there and then, lest you lose the opportunity.
Intellectual Stimulation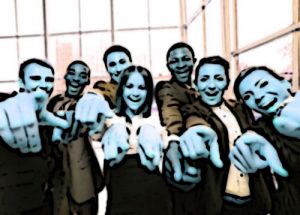 Again it is the intellectual stimulation that keeps you glued to the workplace. In addition to this, there is awesome energy that facilitates the spurting of new ideas and innovations. Such places have smart as well as humane managers. Your contributions are readily acknowledged and you have newer challenges all the time. The best thing you will find at such places is great respect for your time, and of course the obligations which you do outside work.
Reasonable Perks
The right job would give you ample visibility and positive inputs would be offered from time to time like recruitment and training to steer your department in a positive direction. The best thing is you would be able to learn, stretch your vistas, horizons, and be able to plug into personal power source each and everyday without fail. Do you feel these are mere fantasies, luckily they are not as plenty of working professionals do experience these simple but reasonable perks in their work places.
A Job That Truly Deserves You
And it not by mere accident that one finds his or her way to a great fitting job, in order to get a job that truly deserves you, positive efforts are required, you  need to use your voice to the best of your advantage, it goes without saying that you must step out of your comfort zone. Actively take charge of your own career, and survey the talent market in your area of work. In order to bag a fantastic job, refrain from mindlessly shooting applications into faceless, nameless, black holes, that many a recruiting portal happen to be.
Earning Potential
Well the biggest thing that the right job does for you besides your regular paycheck is to ensure income security for you. You must understand unlike the working world of yore, no matter how secure a job appears to be, it still falls in the gig economy. The only person who can ensure income security is yourself, with this in mind you need to be running the career show, and you certainly need more from the job, in terms of new learning for enhanced job security as the people you choose to work with surely can diminish or augment your earning potential.
Final Words
So don't do a disservice by collecting dragon slaying stories, keep adding to your expertise, experience and skill set as just a paycheck is never enough and lastly your job must never crush your flame, rather fan it to the maximum possible extent, so that you are able to realize your career related goals and ambitions at the right time in each stage of your career. Your should aim to bring life to work and work to life, this synergy would stand you in good stead professionally.